ADHO MUKHA SVANASANA or DOWNWARD FACING DOG
Even if you have never done yoga before, chances are, you would have heard the name of this pose, "Downward Facing Dog", at least once. If you practice Vinyasa Flow yoga (which is my case), it is a pose you would have done thousands of times over the years since it is incorporated in Sun Salutations and Vinyasa transitions.
Downward Facing Dog looks like an upside down V-shape - it can be pretty deceiving as there is more to it than meets  the eye. Indeed it seems very accessible from the word go but actually requires cooperative shoulders, back, hamstrings and calves as well as strength in the arms, especially in the triceps.
To help you get a better understanding and feel of the pose, I will describe how to get into Downward Facing Dog from an Extended Child's pose:
Start seated on your heels with the arms straight and stretched out in front, hands shoulder-width apart. Press your palms onto your mat making sure you are spreading the fingers wide and point your index fingers either straight ahead or slightly outward if you feel restricted in your shoulders. At the same time, press your seat onto your heels to create space in the back. Your head is relaxing between your arms, forehead resting onto your mat or onto a block. Give yourself a few moments to connect with your breath.
Next, separate your feet hip-width apart and tuck your toes under. Your heels should be centred, so check that the outer edges of your feet are parallel.
Bring your seat back onto your heels and as you exhale, slowly begin to straighten the legs by lifting your sitting bones up and back while maintaining a long spine, sending your chest toward your thighs. Turn your shoulders out to create space in the upper back and firm the front of your thighs by lifting the kneecaps (be careful not to lock them though). You should feel a long energy line travelling from the tailbone to the base of your skull and two long lines originating at the sitting bones and journeying all the way done to the heel bones which are releasing down to the floor.
If you feel that your back wants to round and/or your legs are reluctant to straighten, modify the pose by bending your knees a little and reach your torso toward your thighs without forcing the head between the arms. Hold for 10 to 15 breaths.
Beyond the physical benefits mentioned earlier, Downward Facing Dog is also said to have a calming effect on the brain, improve digestion and alleviate backaches, fatigue and sciatica.
Ready, steady… Downward Facing Dog!
HEMSLEY & HEMSLEY for
These juicy fritters are addictive and packed full of broccoli.  Serve them with this spicy avocado dip and you'll be in green heaven:
http://www.vogue.co.uk/beauty/2013/04/17/hemsley-and-hemsley-broccoli-fritters-and-spicy-avocado-dip
If you find that broccoli makes you gassy then steer clear of raw or overcooked! Instead fry it up with our gluten-free egg and almond fritters or simply serve al dent - cut off the woody parts and steam the less fibrous florets in covered pan with just a splash of water until tender - drink up any leftover cooking water - it's full of nutrients!  Or cook broccoli into a soup and blend to minimize digestive problems. 
Fried food is always tasty - the natural sugars present in food caramelise when they come into contact with heat and fat - a similar reaction called Maillard, happens with the proteins. This makes for an incredible taste - think of toffee or the crust on a grilled steak which gives you a delicious flavour, an appealing colour and a great texture. Just be careful not to overcook or burn food and ALWAYS use a naturally saturated fat like grass fed ghee, virgin coconut oil or organic animal fats because they are stable in high heats.  Butter can be used for low heat frying like scrambled egg but the milk proteins will burn at higher temperatures.
Here's our recipe for a lemon cashew parsley dip for yesterday's Cook supplement for the Guardian - one of the Ten Best Nut Recipes:
http://www.guardian.co.uk/lifeandstyle/2013/apr/13/10-best-nuts-recipes
LEMON CASHEW PARSLEY DIP

This delicious dip is great with plenty of fresh, raw vegetable crudites or scooped into crisp chicory leaves. You can also thin it out with extra oil and lemon juice, drizzle it over baked fish and roast chicken, or toss it through salads. Parsley and lemon are rich in antioxidants and vitamins, while raw cashews are creamy and nutritious, especially when soaked in water beforehand with a pinch of salt, ideally for 4-6 hours.
Serves 4
80g raw cashews
100ml extra virgin olive oil, plus extra for drizzling
2 large handfuls of fresh parsley leaves, approx 45g
1 medium garlic clove
1 tbsp fresh lemon juice
4 tbsp water
¼ tsp sea salt
¼ tsp ground black pepper
Blend all the ingredients together and serve in a bowl with a drizzle of extra virgin olive oil on top.
Recipe supplied by hemsleyandhemsley.com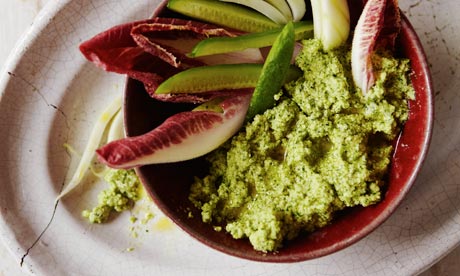 Lemon cashew parsley dip. Photograph: Yuki Sugiura for the Guardian
The wonderful Rachel Giffin is teaching a 5 week yoga class on Monday mornings starting Monday 15th April 730am - 830am open level in W1
We've known Rachel for 5 years and love her upbeat and dynamic classes. And what a voice!  Lying in shavasana with Rachel singing softly to you in Sanskrit has to be one of the most relaxing and blissful experiences we've ever had.
http://www.purebalanceyoga.co.uk/whats-on-offer/group-yoga-classes/
I love restaurants but I also love dining in beautiful and unusual locations with a group of cool strangers where there are no menus and you eat what you're given.  Which, in the case of Disappearing Dining Club is always top notch delicious.
We've written before about the passionate and unstoppable Stuart Langley and his growing London empire of food celebrations - Norse by Norse West (Scandi eating), Dinner & Dance, Back in 5 minutes (on Brick Lane) and this, his latest incarnation of Disappearing Dining Club in an exquisite antique dealer's 18th Century town house in the heart of Spitalfields.
PS If you're interested in starting a food business, Stuart hosts The Guardian's food start up masterclasses but be quick because they sell out everytime.
HEMSLEY & HEMSLEY for
http://www.vogue.co.uk/beauty/2013/04/10/hemsley-and-hemsley-watercress-soup-with-brazil-nut-cream
Watercress is an amazing food  - even the Persians, ancient Greeks and Romans praised its medicinal virtues. It made a particular comeback in the 90's and just like all things 'super' from this era we can call it 'the original superfood'.
Made infamous by the 'Watercress soup diet' we've taken this classic and swapped the high starch potato for low starch celeriac and added some nourishing protein rich stock and fat rich brazil nuts and butter for a satisfying way to look after your health.  Remember - fat doesn't make you fat - it makes you feel full! Fat triggers a hormone called Cholecystokinin (CCK) that makes you feel sated.  So  instead of being 'on a diet' - enjoy the right diet…
Thanks to a boom in healthy eating (and Liz Hurley endorsements) watercress can be picked up easily in the salad section of most supermarkets - look for 'washed in spring water' or order it from you Riverford veg boxes like we do.
It's pretty much in season all year round (although at its best from April to October) and thanks to it's strong, unique peppery taste and the fact it's really quite cheap you are getting value for money both in taste and health benefits.
Watercress originated from Europe and central Asia but has been exported all over the world. The British are so proud of their watercress growing methods (in fresh spring water) that they've been lodging a request with the EU for protected status. They claim that, unlike cress grown in soil, watercress benefits from rich mineral flowing water which adds to their taste. Result from the EU should come later this year…
Despite its knobbled and gnarled looks, celeriac has a lovely flavour - we like it raw - think celeriac remoulade or baked as a nice chunky salty chip. Unlike potatoes, and other root vegetables, it is very low in starch (which affects blood sugar levels) and higher in fibre, as well as being a good source of potassium. We've used celeriac before in our Celery & apple soup  for the Guardian and it works here again as a creamy thick alternative to potato.
Serve a small bowl of this soup with a wedge of our toasted butternut squash bread if if you just have to dip
http://hemsleyandhemsley.tumblr.com/post/20009925239/butternut-bread  
You, as a food buyer, have the distinct privilege of proactively participating in shaping the world your children will inherit.
Read more about Melissa's blissed out detox yoga retreat on Sous Style.
http://sousstyle.com/2013/04/02/a-hemsley-hemsley-heavenly-yoga-break-with-chaya-yoga-retreats/
We find that a 100% raw diet doesn't work for us but we do believe that eating foods in their fresh, raw, 'alive' state is very good for you.
As well as vitamins and minerals, raw food is rich with enzymes which our bodies need for every function including digestion.
In the summer, people are drawn to fruit, fresh salads, salsas, gazpachos and crudities galore but in the colder months, our bodies tend to crave warming cooked foods and those raw vegetables don't seem as appealing .
All year round but especially in the winter, we get a raw fix by juicing and blending greens smoothies for breakfast or as snacks (see recipes for our favourite juices and smoothies on www.hemsleyandhemsley.com and our Winter smoothie recipe on Vogue)  On that note, we do not recommend drinking ice cold drinks or even straight from the fridge - let your smoothie, juice or water reach room temperature first.
So how can we enjoy some raw food with every meal?
At mealtimes (especially during the week when we've been cooking all day) a simple, soothing meal has to be soup or stew with a salad on top - e.g this mexican inspired stew with red onions, garlic, quinoa and black beans simmered together in the slowcooker with oregano, cumin, cayenne and paprika.  Rather than make up a fancy salad to serve on a second plate (more washing up!), we simply grate a courgette and sliver a carrot with a peeler straight into the bowl.  Then we drizzle with some flaxseed oil (for omegas) and a squeeze of lemon for extra tang and more raw!
For more soup recipes look on Vogue and if you want to get more creative with your salad topping try our Winter Slaw for the Guardian or our super simple courgette recipe - Quicker than toast…
 In the heart of Shoreditch, we had ourselves a feel good Sunday courtesy of our wellness friends Chaya Yoga and their link up with PATTERNITY for World Health Day on 7th April.
All the activities were free with donations going straight to 3 charities (WWF, The National Autistic Society and Providence Row).
The all day event 'Happy Patterns' was dedicated to exploring positive patterns and releasing unwanted patterns of thinking through yoga (with Lucy, Daisy and Natalie from Chaya Yoga), a raw food overview with the legendary Kate Magic, the powerful technique of Tapping (aka Emotional Freedom Technique) taught by Rhona Clews and the sublimely relaxing Gong Meditation session where the charming Faze Al 'gonged' his 28 inch gong, recharging and rebalancing a room full of 40 people.  
Gong meditation is an amazing experience where you are immersed in the beautiful sounds and vibrations from the gong (more on this soon).
We're afraid we haven't got any photos to share from the day - we were too busy being blissed out!
www.chayayogaretreats.com (for yoga)
www.rhonaclews.co.uk (for EFT)
itsjustfaze@gmail.com (for gong meditation in London)
A cake for our dad's 70th birthday
Our new chocolate cake recipe with chilli and chocolate orange cream….
No sugar, no grains and no strange substitutes…

One in three mouthfuls of the food we eat is dependent on pollination at a time when a crisis is threatening the world's honey bees. 
Our friend Katharine Hamnett is working tirelessly to help save the bees. She has brought to our attention that Britain recently abstained from voting for the European Food Safety Agency's proposed ban on key neonicotinoid pesticides. This is despite the fact that 75% of Britons polled were in favour of enforcing the ban. It is these very pestcides that are largely held responsible for the decline in Britain's Bee population.
Katharine says; 'Demand that your MP insists Britain supports the European Food Safety Agency's proposed ban on neonicotinoid pesticides to save the bees.'
We've written to our MPs, please write to yours - its easy to find out who your local MP is and to send them a direct message on www.theyworkforyou.com 
Last year we wrote a
post
 with info from the
Soil Association
highlighting the threat to the bees and now is time to take some positive action to help them, as in approximately three weeks the EU will be voting again.